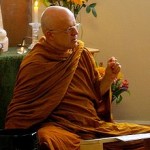 This is the first of a three-part review of Thanissaro Bhikkhu's new e-book, The Truth of Rebirth: and Why it Matters for Buddhist Practice.  You can read it here.  In all three parts, I refer to TB by his initials.
Geoffrey DeGraff, aka Thanissaro Bhikkhu, is a giant figure in the Westernization of Buddhism.  Along with Bhikkhu Bodhi, he has produced a vast body of translations of Pali texts, known both for their erudition and their sensitivity to the needs of those who approach the texts not as linguists  or historians but as practitioners.  His works have allowed English speakers seeking the dharma to access the earliest and most complete tradition of  Buddhist texts; as readers of this blog will recognize, in so doing he has enabled us to form our own interpretations of those texts, helping us advance ideas from the ancient Pali canon that have immediate relevance for the time and cultural milieu in which we find ourselves.
But TB's mission has never been to Westernize the dharma.  As a translator, commentator, teacher and founder of a Thai Theravadin monastery in the U.S.,  his mission has been to preserve and transmit the teachings of the Buddhism he learned in Thailand.  It is ironic, then, that in works like The Truth of Rebirth, he finds himself attempting to put the genie he helped release back in the bottle, to convince Western skeptics to embrace a metaphysical Buddhism that has changed little since Buddhagosa wrote the earliest extant Theravadin commentaries some 1500 years ago. I will suggest that his attempt to do so not only misses the point behind the secularization of the dharma, but betrays the contradictions that lay at the heart of the traditional Theravadin interpretation of the Pali texts.
"Each time you choose one course of action over another, you're making a wager as to the consequences of your choice . . . The Buddha taught . . . that awakening — in going beyond the dimensions of space and time — gives perspective on how choices operate within those dimensions. You see that choices are real, that they do make a difference, and that the consequences of your choices can shape not only this life but also many lifetimes in the future . . . Prior to awakening, you can't know these things for sure, but as the Buddha states, if you want to gain awakening and to minimize suffering in the meantime, it's wisest to assume these principles as working hypotheses."
It's strange that a book that asserts ancient Indian mythology as "truth" would begin in the Enlightenment. TB almost sounds like Adam Smith here, presenting Man as a rational creature weighing his options and selecting from among them in pursuit of his own best interests. As he unveils his argument, he returns to this concept again and again — unless we are aware of and take seriously the torment we face in future lifetimes, we will be insufficiently motivated to make the effort required to awaken.
TB will appeal to logic, and even to modern Western science and philosophy, to advance the argument that the teachings in the Pali texts present a seamless and internally coherent doctrine of rebirth. By emphasizing Gotama's refusal to speculate on the metaphysics of rebirth, he tries to present his Buddha as a pragmatist. But this display of rational argument has at its core an ironclad faith in a metaphysical concept. The "awakening" TB is talking about consists of "going beyond the dimensions of space and time." To him, the tales of the Four Watches of the Night, Gotama's vision of his own past lives and the transmigration of others, are the central insight of the Buddha's awakening. He grounds his Buddhism so squarely in the metaphysical that no amount of redirection can avoid the rift between the mythology of his religion and the putative pragmatism and phenomenalism of Gotama's teachings.
Adam Smith notwithstanding, a human being isn't simply, or even primarily, a rational decision maker, as a neuropsychologist — or anyone who has spent time closely observing his or her own body/mind — will confirm. Our behavior arises from a complex biosocial matrix, much of which we are unconscious of. Our feelings and emotions impel us, and often our intellection serves only to rationalize what we are driven to do. A system of morals and ethics based on "wagers" about invisible abstractions like future lives, then, will not have much chance of changing our lives here in the present. And in fact, in the end, the awakening TB preaches is less about rational choice than about terror, the terror of what happens to us when we die.
The phrase "working hypothesis" is one of the borrowings from science that TB uses to give his argument a patina of rationalism. But the only reason one has to form a hypothesis, working or otherwise, is to create a framework for finding and analyzing evidence. If the evidence supports our hypothesis, we can confirm it, and perhaps extend it. If not, then we will have to revise or even abandon our hypothesis. But, as TB admits, we can't have any evidence of rebirth — at least not until we achieve the Buddha's capacity to see "beyond time and space." We must take it on faith, as TB does, that the Pali canon is an accurate and coherent presentation of the Buddha's teaching, and that  the supernatural experiences that are told of in those texts are a reliable depiction of human destiny.
Unless and until someone reveals an observable entity or substance that can contain human memory and personality after the death of the body, there is no real evidence we can hope to find of rebirth. Of course, TB uses Gotama's admonitions against metaphysical speculation to avoid this question entirely. However, without even the possibility of evidence, what we have is not a hypothesis to test, but a dogma to believe. What TB does in The Truth of Rebirth is try to make the intellectual case that rebirth is real and that it matters because the Buddha said it did. In so doing, he must hew closely to the Theravadin commentarial tradition, and so his conclusions are never in doubt. If you share his belief in the Theravadin religion, you may find his arguments compelling. If, however, you are inspired by the canonical Gotama who urges us not to take on beliefs simply based on argument and tradition, you are likely to find TB's book unconvincing.
Category: Articles, Book Reviews